SIX medals for Cuckoo!
SIX medals for Cuckoo!
4 December 2017 (by admin)
More great news from our very talented pupils. Well done to Natalie and everyone involved in achieving a fantastic 2nd place winners in the recent Advance Gymnastics competition.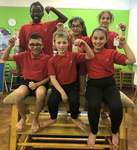 Zaneya, Pelin, Cristiana , Emir, Oscar, and Ezgi also become the first group to be inducted into the new school website's Hall of Fame section, where we celebrate outstanding individual and team success.