Woodpecker crowned Edmonton Glee champions 2017!
Woodpecker crowned Edmonton Glee champions 2017!
27 June 2017 (by admin)
It was a fantastic night - as we beat no less than 20 other schools in what was a very hotly contested competition.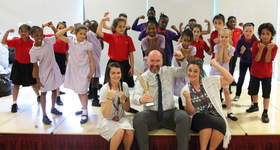 After the victory, we held a school assembly with the Glee Club giving us a special 'acapella' performance of some of their winning songs. When I formally presented them with the impressive gold trophy, we heard some of the loudest cheering in my time as headteacher, as the school erupted in celebration of their fellow classmates achievements.
The staff coaching the team have been outstanding. We are extraordinarily proud of the of the children. They have brought tremendous credit to the school and themselves. We not only captured a winners trophy but also other prizes - and won singing scholarships to the world famous Pineapple Studios, in London's Covent Garden.
You can watch the wonderful performance the Glee Club gave at the school assembly and see their winning performance on the night at the Milfield Theatre.
The competition was organised by the Edmonton Schools Partnership which works together to raise aspirations and provide opportunities for children in the area. The partnership commissioned Pineapple Performing Arts to deliver weekly Glee Clubs, based on the music and singing from the American hit TV series 'Glee'.